Have a Christmas-cracking good time with our picks for Christmas fun for kids! Please note that events may be cancelled  at any time so check out the website before heading out. 
For almost all events you need to book tickets in advance!
We are constantly adding new events so check back for updates! And…let us know if we missed any event!
Meet Santa at JumpBox
This weekend, Saturday and Sunday between 10.30-17.30, it will be possible to meet our Santa and hand him a little personalised message that he will say to your child (congratulations for some things well done this year / improvements to be made for the coming year). If this is your wish, he can also give a small gift (you just have to give it discreetly to one of our elves as well as the little message).  It will also be an opportunity to take great photos and our elf will be happy to take a beautiful family photo to remind you all that even in 2021 magic existed. Thank you for supporting our local company!
Where: 8-10 rue De L'Etang, 5326 Contern
When: Meet Santa 18-19 December. Open during the holidays:  Tuesday 21/12 14.00 / 18.00; Wednesday 22/12 14.00 / 18.00;  Thursday 23/12 14.00 / 18.00;  Friday 24/12 11.00 / 16.00;  Monday 27/12 14.00 / 18.00; Tuesday 28/12 14.00 / 18.00; Wednesday 29/12 14.00 / 18.00; Thursday 12/30 14.00 / 18.00; Friday 31/12 11.00 / 16.00; Sunday 2/1 10.00 / 18.00
Age: all ages
Cost: Price per child: 15 euros. Reservation by email at info@jumpbox.lu indicating whether you will come on Saturday or Sunday, approximate  time, the number of children and the language spoken.
Website
Winter&Christmas Stories Facebook page
Check it out for cozy Christmas stories and nice ideas!
Website
Virtual: Macy's Santaland At Home
One of New Yorkers' beloved holiday traditions . Starting 11/26, bring the little ones & follow Santa's Elves on a trip through the North Pole. There will be fun activities along the way, plus chances to visit Santa's Toy Shop, help the Elves & meet Santa himself!
Christmas Decoration Workshop (in Fr)
In this workshop, you will discover how to transform everyday objects into beautiful party decorations.
Where: IKEA Arlon, Rue de Grass 100, 6700 Arlon, Belgium
When: 13, 20 November, 1 December
Age: all ages
Cost: free
Website
Winterlights
This year, the Winterlights festival will take place from 19 November 2021 to 2 January 2022, transforming Luxembourg City into a winter wonderland with Christmas markets all across the city, as well as live concerts, exhibitions, performances and workshops for kids. Enjoy Christmas markets, a number of concerts and entertainment for kids, cultural events and Christmas lights. Click on the links for all details!
Where: Luxembourg city
When: 19 Nov- 2 Jan
Age: Everyone
Cost: Free
Website
Confiserie Coné/Coné's Winter Wonderland
Fresh popcorn , Dutch Mini Pancakes and fruit brochettes with chocolate and homemade marzipan in a Christmassy atmosphere!
Where: 15, rue des champs in Bertrange
When: open for you every day from 19 November from 1 p.m. to 7 p.m.;
Age: all ages
Cost: Entrance is free but you have to buy something at Confiserie Coné to take away
Website
Christmas Workshop ( Booking required, in English, Lux, French)
On the program: each child will sketch the face of Saint Nicholas, the cotton beard and the gold paper miter. The sketch will then be colored with water markers and mounted on a cardboard triptych. At the end of the workshop, each child will also be able to formulate his best wish for the patron Saint patron (drawing or writing).
Where: miyo concept store, 169 route d'Arlon, L-8009 Strassen
When:  21 Nov: 10-12h15
Age: 6-12 years
Cost: 30 EUR
Website
WinterFest at Mutferter Haff
The Mutferter Haff warmly welcomes you within this year's Winterfest on Friday 26th of November from 6pm to 11pm. There will be animation for young and old. The riding hall is festively decorated for the occasion. Join our "Games without Borders"! There is food, drink & entertainment for the whole family! Winter market & free handicraft workshop for kids!
Where: Mutferter Haff, 12, um Kinert, L-5334 MOUTFORT
When:  26.11.21:18h
Age: Everyone
Cost: Free
Website
Winter Moments
Ice Skating Rink, Christmas Market, Chalet, concerts, slide with a tire (50 meter ramp) and cross-country ski trail (100 × 4 meters) around the monument.
Where: Mamer, Mamer Castle car park (8252 Mamer) and in the Brill Park (1 Place de l'Indépendance, 8252 Mamer)
When: 26  Nov- 2 Jan
Age: Everyone
Cost: Free
Website
Winterlights on Ice – Ice Skating Rink in the centre of Lux
The ice rink has an area of ​​500 m2. 350 m2 of the ice rink is covered with a roof to protect against bad weather. In addition, light sculptures will be installed and 20,000 LED bulbs will illuminate the ceiling of the ice rink and offer visitors a unique spectacle. A changing room and heated waiting area is also the skate rental center. Over 500 pairs of skates of all sizes are available for skaters. Nearby, you will find several possibilities to eat or drink something.
Where: Parc Kinnekswiss, 29 Av. De la Porte-Neuve, 2227 Luxembourg
When: 19 Nov- 2 Jan
Age: all ages
Cost: 5 EUR entry fee;   skates rent – 2 EUR;
Website
Parents – Do your kids want to meet Kleeschen, St. Nicolas, Père Noel, Santa Claus, Father Christmas? Here's more than 30 great ways you can see him in and around Luxembourg.
Creative Christmas Workshop (in FR)
Creative workshop for kids.
Where: Petit Laboratoire – 28 Am Bongert.
When: 21/11/2021: 15h-17h
Age: All ages
Cost: tbd
Website
Christmas Workshops in "A Possen" Toy Museum
Kids will prepare an Advent Calendar  and Christmas Decoration. You cannot buy ticket online but you can reserve your place via phone or email.
Where: Musée "A Possen", 2 Keeseschgässel, L-5405 Bech-Kleinmacher
When: 27 Nov and 18 Dec
Age: 6-12 years
Cost: 20 EUR per kid
Website
Christmas at the Theatre / Chrëschtdeeg am Theater
Head over to see Christmas theater performances!
Where: Rotondes, places de Rotondes, L-2448 Luxembourg-Bonnevoie
When:  27-30 December
Age: Everyone
Cost: varies
Website
Advent Wreath Workshop (in Lux, Fr and De)
Kids will prepare an Advent wreath.
Where: Kulturhaus Niederanven, 145, route de Trèves, Niederanven
When:  27 November: 9h30 and 14h
Age:  all ages
Cost: 22 EUR
Website
Christmas Rally in the Archaeological Museum in Trier
An exciting journey of discovery for the whole family leads to the beginnings of Christmas and to museum pieces that have to do with Christmas and its history. Every child who finds out the answer to the rally has a little surprise waiting for them at the museum ticket office. (Family discounts available)..
Where: Weimarer Allee 1, 54290 Trier, Germany
When: 27, 28 November; 4, 5 December; 11,12,18, 19, 21, 22, 23, 28, 29 and 30 December
Age: whole family
Cost: entry fee
Website
Innovate for your festive meals! (in Fr)
Fancy a change for your festive menu this year? Come to IKEA  and learn with the help of professional chefs how to cook up tasty and original dishes for the holidays. Theme of the workshop, unsurprisingly: Swedish specialties! You will have the opportunity to discover traditional cuisine, vegetarian dishes as well as typical Swedish appetizers.
Where: IKEA Arlon, Rue de Grass 100, 6700 Arlon, Belgium
When: 27 November, 4, 18 December
Age: all ages
Cost: free
Website
Kleeschen (in Lux, Fr and De)
St. Nicolas is fast approaching and to give a warm welcome to Father Christmas, Sophie Dewalque offers to sew a small decorative figurine.
Where: Kulturhaus Niederanven, 145, route de Trèves, Niederanven
When: 28.11.2021: 9h30-11h30
Age:  4-6 yrs
Cost: 25 EUR
Website
Geschicht vum Kleeschen  (in German, Booking required)
Puppet theater!
Where: Poppespënnchen, Place de Saintignon, L-4698 Lasauvage
When: 28 Nov
Age: 2+ years
Cost: 5 EUR  – kids; 7 EUR – adults
Website
WinterKids
New this year: the courtyard of the Old Athénée on Rue Notre-Dame will host "Winterkids" – a Christmas market with a focus on family fun. The programme will include workshops, book readings and puppet shows for kids throughout December. Check out the link for the workshops for kids program and theatre shows for kids.
Where: Courtyard of the Old Athénée on Rue Notre-Dame
When: 1 to 23 December 2021: Mondays, Wednesdays, and Fridays: 16:00–19:00; Tuesdays, Thursdays and Sundays: 14:00–19:00; Saturdays: 14:00–20:00; Special opening times on 6 December 2021: 14:00–19:00
Age:  all ages
Cost: free
Website
Winter Magic Tourist Center Robbesscheier
Christmas workshops and activities!
Where: Tourist Center "Robbesscheier", 1 Frummeschgaass, L-9766 Munshausen
When: 1 Dec -2 Jan
Age: all ages
Cost: 16 € (half day program) ; 33 € (full day program incl. Lunch)
Website
Kids Christmas Party with British Ladies Club Of Luxembourg
Come and meet Father Christmas and join in some festive games!
Where: Centre Culturel Beggen, 26 Rue de Rochefort, L2431 Luxembourg
When: 4 Dec: 14-16h
Age: Everyone
Cost: €10 members, €15 non-members, adults free
Website
Saint Nicolas in Yoyo
YOYO invites young and old sailors to the traditional feast of Saint-Nicolas on December 04 & 05 from 12:30 p.m. On the program, many surprises and activities: Saint-Nicolas visit; distribution of chocolates & clementines.
Where: YOYO, Indoor Playground & Restaurant, 105, rue des Bruyères,  L-1274 HOWALD
When: 4-5 December: 12h30
Age: Everyone
Cost: see website
Website
Christmas Animations and Activities in Cloche D'Or Shopping Centre
Where: Cloche d'Or Shopping Centre (25, bd F.W. Raiffeisen, 2411 Luxembourg)
When:
– 4, 5, 11 and 12 December+ every day from December 18 to 31, from 11 a.m. to 1 p.m. and from 2 p.m. to 7 p.m. Place Événementielle of the Shopping Center Auchan Cloche d'Or: Come and challenge the wall of ice and show your mountaineering skills! Free and accessible from 6 years old.
– Saturday, December 18, from 2 p.m. to 6 p.m. Event Square – Come and meet Mother Christmas and her little elves to adopt your teddy bear! Give it a name and get your adoption certification.
– From Monday 20 to Wednesday 22 December from 2 p.m. to 7 p.m. Thursday 30 December from 10 a.m. to 7 p.m. Friday 31 December from 10 a.m. to 4 p.m. – MASTERCLASS ATELIER DES CHILDREN
Website
Kleeschen Experience Tour
Do you and your children want to experience an all-round unique and festive St Nicholas experience according to Luxembourgish tradition? Then take our beautifully decorated coach full of surprises and attractions from Kirchberg to the Robbesscheier experience in Munshausen. Take part in activities such as bakery and donkey riding and then enjoy a get-together with snacks, drinks and craft activities. The highlight of the evening is a visit from St Nicholas himself with his helper and his angel.
Where: tbd
When: 4 DECEMBER 2021 FROM 13:45-19:00
Age: all ages
Cost: The price of the whole tour including activities and snacks/drinks is 35€ per person.
Website
Christmas Fest at Il était une fois…
Head over to the multilingual library with your kids for an afternoon full of activities.
Where: Il était une fois…, 6, rue Tony Bourg, Luxembourg-Gasperich, L-1278 Luxembourg
When: 4 Dec: 14:00-18:00h
Age:0-8 yrs
Website
"Once upon a time …" the Christmas Theater (in Fr)
On the occasion of our Christmas party, the roles will be reversed:this time, it is the children who will animate the show and the parents who will be spectators.
When: 04. December 2021 | from 2 pm to 6 pm
Age: 3-8 yrs
Cost: tbd
Website
Children's Christmas Party – Irish Club of Luxembourg
Phillipa Murray is again co-ordinating the event which will include magician Sylvain Juzan, who will entertain the children, as well as Santa Claus who will also come and visit. This event is being supported by Cactus. AND we will also have a musician who will play the guitar and sing some well-known Christmas songs.
Where: Sunday 5 at Eirelux in Luxembourg-Howald (40 Rue des Bruyères).
When:  4  December 2021 from 16:00 to 18:00h
Age: kids
Cost: €15/child (€10 for children of members). Party food, drinks and present from Santa included. As there are limited places available, please reserve your place early to avoid disappointment.
Website
Christmas Movies for Kids (in Fr/De)
Head over with kids to see this kids movie!
When: 4. 12 and 19 December at 15h
Where: Cinémathèque Luxembourg, 17, place du Théâtre, 2613 Luxembourg, Luxembourg
Age: 3+ years
Cost:3.70/2.40 EUR
Website
Kleeschen On Ice
Where: Kockelscheuer icerink, 20 Route de Bettembourg, L-1899 Kockelscheuer
When: 5 Dec: 10-21h
Age: all ages
Cost: refer to the website
Website
Christmas Activities at Villa Vauban
Come and take part in the various activities on offer in Villa Vauban. Whether on your own, as a couple or with family and friends, come and spend a relaxing time in a unique setting. Check the full program on the website – there a number of activities for the kids!
Where: Villa Vauban, 18 avenue Emile Reuter, L-2420 Luxembourg
When: 5.12 -30.12
Age: everyone
Cost: Free for kids
Website
Winterwonderland – Christmas Workshops (in Fr, En, De/Lux, Booking required)
December is a festive month at the Lëtzebuerg City Museum. There will be artistic activities, laughter and knitting. Starting with the youngest visitors to the museum, everyone will have their fair share of fun this year. The duration of the workshops for families is one hour. Reservations are required.
Where: Lëtzebuerg City Museum, 14, rue du Saint-Esprit,  L-2090 Luxembourg
When: 4.12 -2.01.22
Age: 6+ yrs
Cost: free for kids
Website
St-Nicolas@Zigzag – 6 December
No school in basic that day, so mark the meeting with Saint-Nicolas in your diary. He will visit us between 3 and 5 p.m. and we will welcome you from 1 to 6 p.m.
Where: 7 Rue Pletzer, 8080 Bertrange
When: 6 Dec
Age: Everyone
Cost: 11.90/14.90 EUR
Website
Kids Go Christmas at the Conservatoire
Enjoy Christmas performances  performed by the Conservatoire students
Where: Conservatoire de la Ville de Luxembourg, 33, rue Charles Martel, L-2134 Luxembourg
When: 12 Dec – 10h
Age: Everyone
Cost: tbd
Website
Christmas Carols at the Conservatoire
The vocal ensemble "Les Amis du Chant, Luxembourg" is delighted to be able to invite again to its Christmas concert "Christmas Carols".
Where: Conservatoire de la Ville de Luxembourg, 33, rue Charles Martel, L-2134 Luxembourg
When: 14 Dec – 20h
Age: Everyone
Cost: 15/25/30 EUR
Website
Christmas Party
At one of the most beautiful places in Luxembourg, Little Sparadise is welcoming the children for a great Christmas party. There will be Christmas make and face painting, Santa appearance, Christmas Creative Corner. All Covid19 safety measures in place. Little Sparadise uses 100% friendly products for children..
Where: Little SPAradise Luxembourg, 332 Rte de Longwy, 1940 Luxembourg
When: First event Thursday 16 December from 15:00 to 17:00; second event Tuesday 21 December from 17:00 to 20:00; Third event Thursday 23 December from 15:00 to 18:00
Age: all ages
Cost: Price is 30 EUR per child
Website
All d'Déieren aus dem Bësch ( Booking required, in De)
Theater for kids!
Where: Grand Théâtre de Luxembourg, 1 Rond-Point Robert Schuman, 2525 Luxembourg, Luxembourg
When:  17-23 December
Age: kids
Cost: varies
Website
Christmas Fair
Come and shop local! A small & cosy artisanal OUTSIDE Christmas market! There will be unique products of the highest quality for all ages, tastes and interests! … and snacks & refreshments at Restaurant PAVILLON in Park MERL.
Where: The pavillon restaurant in Parc Merl
When: 18 December: 11:30–16h
Age: Everyone
Cost: tbd
Website
Christmas Concerts at the Philharmonie
Head over for this Christmas concenrt!
Where: Philharmonie Luxembourg, 1 Place de l'Europe, 1499 Luxembourg & Musée Dräi Eechelen
When: 22 Dec: 19h
Age: 5+ years
Cost: varies t
Website
Outside Luxembourg
– 19 November – 22 December: around 49 km from Luxembourg city ( Trier ): Trier Christmas Market
– 22 November – 5 January: around 156 km from Luxembourg city ( Durbuy, Belgium): The smallest town in the world but a large Christmas market
– 26 November – 2 January: around 96 km from Luxembourg city ( Traben-Trarbach, 56841, Germany ):Winter Wine Magic
– 22 November until 22 December: Saarbrucken : Flying Santa (see website for exact days)
–27 Nov – 19 December: Santa village in Sierck-les-Bains. Meet Santa and enjoy the kids animation and workshops: visit every Fri, Sat and Sun. Check out details here
– 12 December – around 47 km from Luxembourg city ( 126 Rue de la République, 57970 Yutz, France):  Christmas show

Christmas Markets
… and here are the Christmas Markets in the neighboring cities:
Metz
(19 Nov- 31 Dec) (
kids entertainment (Lantern Pathway), Christmas market and Saint-Nicolas visit 
);
Saarbrucken
(22 Nov- 23 Dec) (Flying Santa, plastic Ice rink) and
Trier (19 Nov- 22 Dec)
.
Christmas Ideas
And here are some ideas for your Christmas table!
With this stovetop simmer your home will smell like Christmas – Christmas Stovetop Simmer
Christmas Wreath Cheese/Charcuterie Board
Christmas Party Food Ideas
Christmas Brownies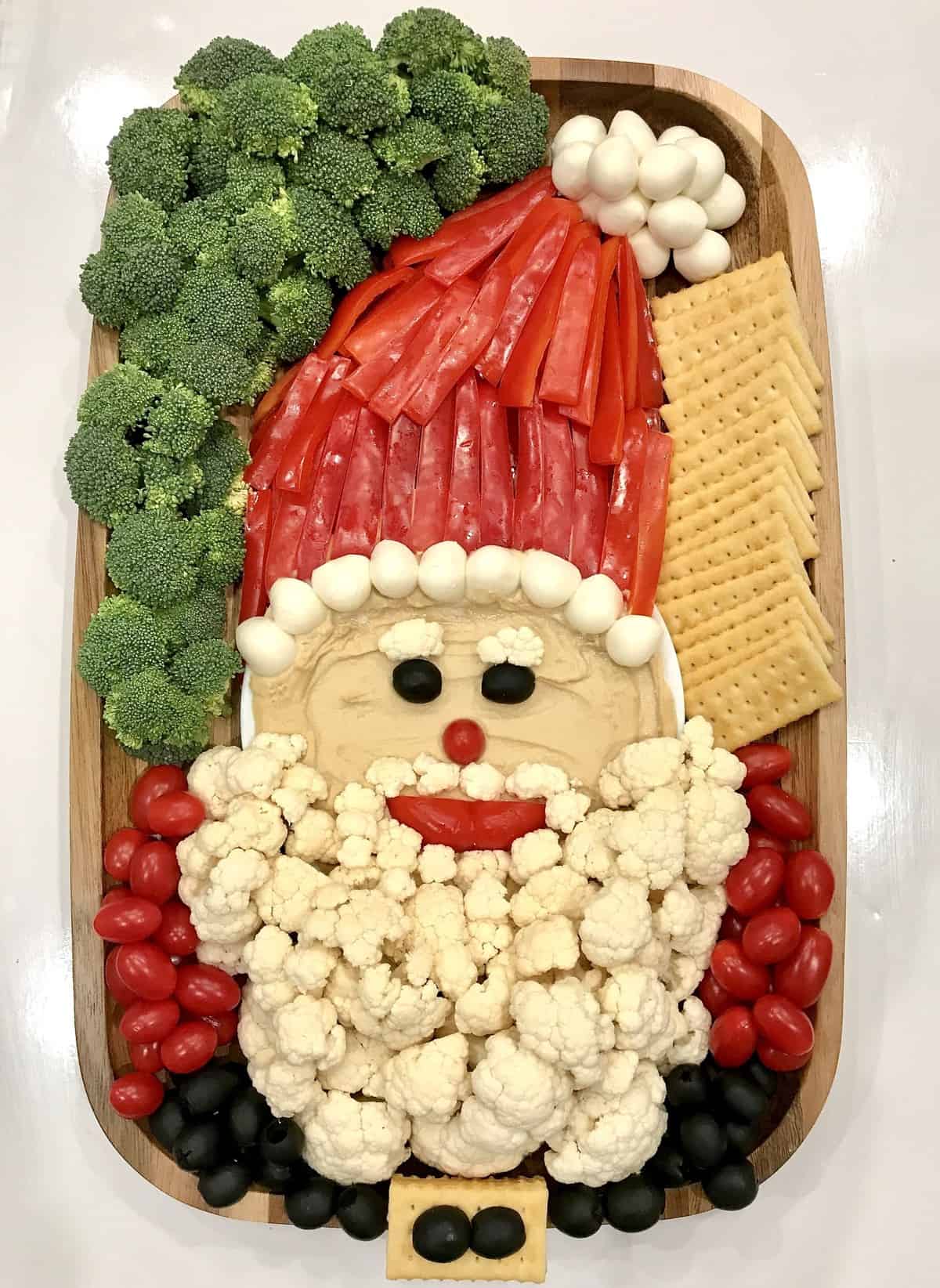 Veggies' Santa
Broccoli Christmas Tree